S

orry... the

O

ak

R

ecord

C

abinet was sold on March 14, 2006. Just the same, below are some photos of our

1905-1915

O

ak

R

ecord

C

abinet. The restoration of this cabinet was completed January 28, 2006.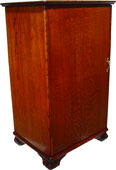 The Oak Record Cabinet was produced between 1905-1915 and we believe was manufactured by the Pooley Furniture Company of Philadelphia. Ideal for Victor or Columbia Phonographs, this cabinet comes with a lower drawer for storage, a lower and upper shelf for records, and right-side pull-out record slide. A perfect complement to a Victor I, II, III, V, M, MS, D, or some Columbias such as the AH, BI, orBII. You can also place a VV-IV or VV-VI on this cabinet.
This quarter-sawed oak cabinet has been completely restored back to factory condition using the same techniques as when the cabinet was new. Shellac and varnish have been applied and hand rubbed between coats which completely duplicates the original finish.




| | |
| --- | --- |
| Item No. | 37283 |
| Sold for: | $995.oo |
| Period: | 1905-1915 |
| Wood: | Quartered-Oak |
| Dimensions: | 34 3/4"h; 16 3/8"d; 20 7/8"w |
Contact us for more details!


Look for the Dog
A great companion book for the phonograph collector. The "Look for the Dog" book features the complete Victor Talking Machine line through 1929.